I am an author!
You can now order a real copy of my new book
No Up
over the internet from
http://lulu.com/jezkemp
. Lulu is the wonderful website that has lets you upload files and publish them as real books. The awesome things about it are that they only make copies when people order them, and you can order from wherever you are in the world. Well, almost anywhere - right now I'm thinking about the UK and NZ!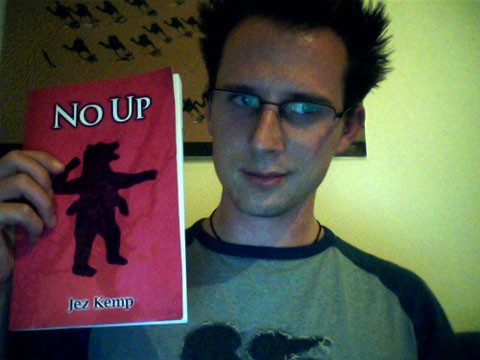 If you don't know anything about
No Up
, it's an action/comedy/sci-fi/adventure with magic and monsters and cheeky British humour - you can find out more and read chapters for free on the
No Up minisite
.
The published copy costs £5 ($13 NZD) + P&P, which is reasonable for books in this day and age.
Obviously I'm pretty happy to have my first book actually in print - I wrote my first book when I was 10 and have been writing for 15 years, and I've enjoyed writing this book even more than others, but it's just really cool to have something physical to show people.
Happy ordering everyone, many thanks and I hope you enjoy it!