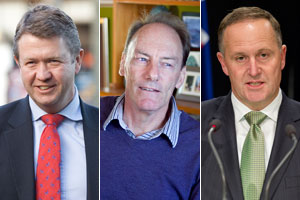 David Cunliffe (Labour leader), John Minto (protest
leader) and John Key (forgetful Prime Minister).


Photo APN/NZ Herald
For people who don't know but might care, the 1981 Springbok rugby tour of NZ was a defining moment in New Zealand's recent history and divided the country.
Most countries had a sporting boycott of playing South Africa in response to the policy of apartheid. But the NZ government in 1981 allowed it, and NZ was split between people outraged the tour was taking place, implying support of apartheid, and people who thought politics had no place in sport.
Rugby is, of course, New Zealand's religion, and the issue was so passionate and divisive there were protesters on both sides demonstrating at the rugby matches, and violence between the two camps and with the police as well.
It seems strange to a foreigner that a rugby tour could be so significant, it has a place in the country's national museum. But for New Zealanders, it really was a time when people remember where they were and which side they were on.
Unless you're the current prime minister John Key.
Like many world leaders, John Key has gone to South Africa to pay respects to Nelson Mandela. John Key has claimed he "can't remember" what he thought about the tour, as a 20-year-old, which is a similar trick he has used when answering questions from the media which he doesn't really want to answer.
More controversially, New Zealand's delegation going to South Africa includes members of the 1981 government who allowed the tour to take place - yet does not include anyone against the tour. The most obvious person would be protester John Minto, who lead the protests in 1981 and was put on a list of "subversives" by the NZ intelligence service SIS.
John Minto has remained politically active and lead some protests in recent years, such as controversially picketing the Israeli tennis player Shahar Pe'er at both 2009 and 2010 NZ Open competitions (despite Pe'er playing as an individual and not representing Israel).
While it's almost predictable that a conservative politician like John Key would want to avoid taking someone as controversial and noisy as Minto, it's sad that the delegation is full of people who were apathetic towards the apartheid regime, or indirectly supportive of it.